With the global rise in energy demands to power up your homes, schools and everyday workplaces, modernization has led to the technical innovation of portable generators. A solution to help curb the everlasting energy demands by providing a sustainable and portable energy platform to be utilized on the go.
Not only that, they come bolstered with a variety of added benefits that utilize their potential to the maximum capacity while delivering your electric needs in a more cost friendly, portable and convenient way. There's no doubt that portable generators are becoming popular in our modern day society, so in today's review, we take a look at some of the most cost-effective, reliable and efficient portable generators in today's market. Let's take a look.
1. DuroMax Hybrid Dual Fuel XP12000EH
Starting off, we got the DuroMax Hybrid. When it comes to sustainability, efficiency and power, then the DuroMax has got you covered. This bad boy can generate up to 12,000Watts of power to supply your electrical needs. We take a look at some of the pros and cons the DuroMax Hybrid has to offer.
Pro
-12,000 Watts maximum output thus able to power, heavy-duty machinery in the workplace.
-Warranty extension of up to 3 years.
-The powerful muffler helps reduce sound pollution of the engine.
-Circuit breakers to prevent overload.
-Oil sensor that prevents overheating.
Cons
-Bulky build and therefore less appealing to the sight. Can take up space.
-Not CARB compliant.
-Not easy to move around.
-Susceptible to wearing out when running at max capacity too often.
2. Yamaha EF2000iSv2 Gas Powered Portable Inverter
An interesting entry is the Yamaha EF2000iSv2. Aside from this multi-billion technological mogul company that is Yamaha, we get to see a new face to the company. More often than not we know them to manufacture automobiles and electronics. Yet Yamaha has proven themselves worthy of a title in the generator category.
The generator utilizes an inverter powered by a pulse modulation technology to generate and deliver power. It provides a more consistent and clean output of current which in turn creates better overall efficiency thus minimizing fuel consumption. A great energy saver and electric generator.
Pro
-Aesthetic design and look.
-Super lightweight thus easy to place around in the office.
-Efficient and saves on fuel consumption.
– Utilizes pulse width modulation technology.
-CARB compliant.
-Makes for a good power generator in the everyday workplace to power up medium scale electronics and equipment.
Cons
-Noise levels are high and can be irritating to converse around in the workplace.
-Few color variants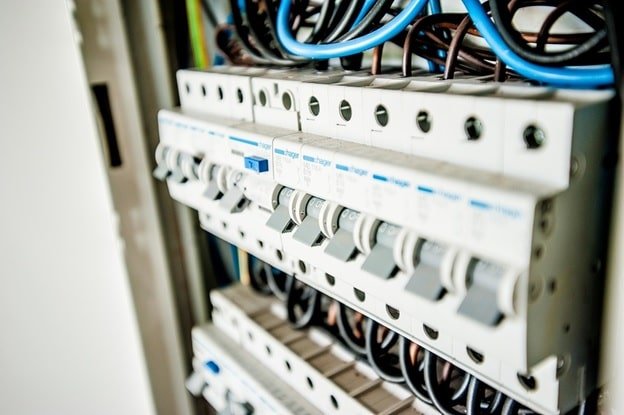 3. DuroStar DS4000S 3300 Gas Portable Generator
Our next pick is the DuroStar DS4000S, this generator not only provides the power we seek, but it also offers great value for your money. The DuroStar DS4000S is a power effective generator capable of producing a powerful 4000 Watts starting output. It is an easy to use generator which makes it a delight to use in the office, home or outdoor events.
Pro
-Affordable and not as pricey.
– Air cooling system helps regulate generator temperatures with its effective cooling system.
– Can easily run for up to 8 hours on 50% power output.
-Sturdy steel frame provides a durable build and authenticity.
-Mid-weight as it is not too heavy nor light.
-Great overall performance.
-Outstanding durable and long-lasting.
-EPA compliant.
-Provides electrical output high enough to power up large scale machinery and construction equipment with ease.
Cons
– Noise rating of 70 Decibels.
-High fuel consumption.
-Non CARB compliant.
-Comes without an amp meter makes it difficult to access and monitor consumption and electrical production.
4. Champion 3800-Watt Dual Fuel RV Ready
Yet another outstanding and powerfully driven generator that delivers on all its promises. This beast packs a 244cc engine with the choice of running it on gas or propane. A well-suited advantage not present in many generators, therefore providing a safe alternative between the two fuel sources. Can run for up to 9 hours of half output, making this a force to be reckoned with.
Pro
– EPA and CARB compliant
-Can run for 9 hours of use on 50% output, making it a recommended pick for large scale businesses that require a constant power supply for a long period of time.
– Dual fuel alternatives.
– Intelligauge system.
– 4-gallon capacity, providing more fuel storage.
Cons
-Heavy due to its metal alloy frames.
– Quite noisy at 68 Decibels
5. WEN 56180, 1500 Watt Gas Powered Portable Generator
Packed with many features, the WEN 56180 takes into consideration your safety with it's built in safety protocol features to help guarantee a safer experience. While the company is known for its robust power tools, the WEN 56180 makes no exception. Its brilliant and dynamic performances offer great value while ensuring that your electrical needs are met. The generator can run for up to 7 and a 1/2 hours on half output while it's muffler helps curb the noise pollution to about 65 decibels.
Pro
– Premium safety features.
– Durable and long lasting.
– Lightweight and portable. Makes a good choice for transporting in between locations and around the office.
– Affordable and economic in terms of price range and overall fuel efficiency.
Cons
– Lacks a lengthy oil funnel, therefore susceptibility to frequent oil spillages may be experienced.
– No wheels are attached, thus reducing the mobility of the device.
– Not powerful enough to power, heavy-duty construction machinery and electricals in the workplace.
– Despite the muffling, the 65db of noise produced can make it quite difficult to work in a conducive environment with the device around.
When it all comes down to selecting the best portable generator for you, ensure to list down some of the traits and inbuilt functions you desire. Be its portability, efficiency or high output the right generator can deliver its promises to you.