EasyEDA is a free cloud – based tool for you to design your schematics and PCB . The PCB design tool allows us to design projects and produce electronic systems easily. In this article we show the main features of their software.
Have you ever finished designing your PCB and wondered where you could have it manufactured? Many beginners usually don't know how or where to order their PCBs and spend a lot of time scouring through the internet looking for PCB manufacturing companies. EasyEDA eliminates this problem by assisting one to order their PCB. Today we are going to show you how to order PCBs after laying out your PCB with EasyEDA.
The first thing to do is to design a PCB as you want, Here presents an interesting circuit board designed by One romance-loving user of EasyEDA, Which has given us the Merry Me, a printed circuit board that, with 35 LEDs and a CR1220 battery, expresses your love like it's never been expressed before.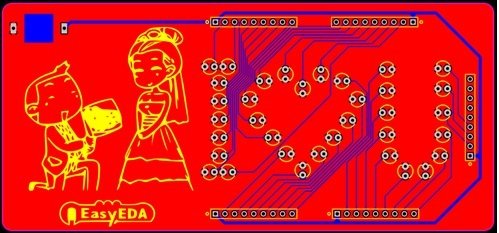 You could directly order the nice PCB from EasyEDA. Just need to click on the button at the top "Fabrication Output", then redirect to the page of "PCB order", fill in your details and you will go directly to the purchase menu.
EasyEDA provides fast prototyping service. They provide online instant quote, fast fabrication and competitive price, which save a lot of time and money for you.
In the PCB order page with many customized product options, such as quantity, layer, PCB thickness, dimension, color and all that.
Economical price: It only costs you $9.8 to start prototyping your own design. Moreover, Invite Friends can gain a $5 coupon for PCB order;
PCB thickness selectable from 0.4mm – 2.0mm;
Multiple choices in quantity,thickness and colors;
Totally free 100% E-test.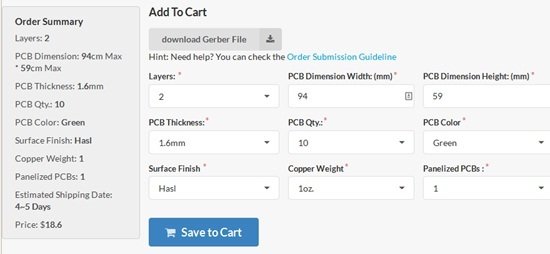 Thanks to this possibility that EasyEDA gives us, we can build and order customized PCB boards. In addition, it is also possible to import existing designs done in Altium, Eagle and KiCad and edit them in EasyEDA prior to PCB Gerber generation. Furthermore,it is equally possible to submit 3rd party Gerbers like Eagle, Pads, or Altium Design to EasyEDA for fab.
Moreover, the ordering process is also simple, here are the PCB order steps:
1.Just click the Fabrication Output button or Upload your PCB design files;
2.Fill in your PCB information;
3.Add to cart;
4.Get your PCBs.
Just this simple, as long as your files meet the requirements, you will be ready to get your PCBs in a few days!
The following PCB is made by EasyEDA, Pretty sweet, ain't it?
Now, we set up in collaboration with EasyEDA, You can directly order PCBs in Microcontrollerslab as shown below.
If you don't understand anything you can refer to the PCB order tutorial that explains everything.