LM201 is a general-purpose amplifier that can be used as an advanced alternative of LM741 OP-AMP with an extensive overload protection on the input and the output. It is available in the market as plastic package N DIP 8 and plastic micro package DSO 8. The best advantage it has over internally compensated amplifiers is that the compensation is adjusted in accordance with a particular application. The corresponding family members of LM201 are LM101 and LM301 which differ each other in certain specifications. The slew rate of 10V/µs and bandwidths of 3.5MHz can be obtained with much ease.
LM201 Pinout details
LM201 comes as 8 PIN IC with basic pins for applying inverting and non-inverting inputs and for obtaining the output. DC supply voltage Vcc can vary from ±5 to ±22 Volts.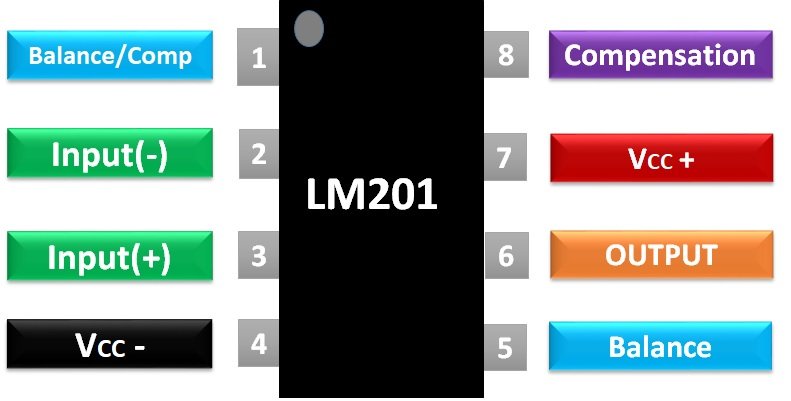 PINS
Details
1 – (

Balancing Compensation 1

)
This pin is for compensation
2 – (

Inverting Input

)
This pin for applying the inverting input voltage
3 – (

Non-Inverting Input

)
This pin is for applying a non-inverting input voltage
4 – (

-Vcc

)
This pin is for applying negative DC supply
5 – (Balance)
This pin is for balancing
6 – (Output)
This pin is for obtaining an output voltage
7 – (

+Vcc

)
This pin is for applying positive DC supply
8 – (Compensation 2)
This pin is for compensation

LM201 Features
Input offset voltage : 0.7mV
Input bias current: 25nA
Input offset current: 1.5nA
Slew rate as inverting amplifier: 10V/µs
Supply voltage rejection ratio: 96dB
Large signal voltage gain: 100 V/mV
Supply no load current: 1.8mA
Common mode rejection ratio: 96dB
Output short circuit current: 30mA
Maximum output voltage swing: 14V
Input impedance: 4MΩ
You may want to download a datasheet of LM201 to read further on the electrical specifications of a single-channel op-amp.
Where and How to Use LM201
LM201 IC is specially designed to protect when overloaded on input and output. It bypasses the struggle of oscillations and compensations by a simply 30pF capacitor. Higher bandwidth makes it possible to use it as a versatile amplification device. While using LM201 input signal is either applied at inverting or non-inverting input terminals i.e. pin no. 2 or 3. DC supply voltage ranging from 5-22V is applied on pin no. 4 & 7 in such a way that the negative potential of the battery is connected to pin 4 while positive to pin 7. The output voltage is obtained at pin 6. Pin 1, 5 and 8 are used for balancing and compensations. Specific configurations are available to do standard compensation and offset balancing.
LM201 Example 1
One such configuration is shown as:
More Example Ideas
LM201 can be used for the construction of:
fast summing amplifier
fast voltage follower
bilateral current source
fast AC/DC converter
instrumentation amplifier
voltage comparator for driving RTL logic or high current driver
low frequency square wave generator
voltage comparator for driving DTL or TTL Integrated circuits
isolating large capacitive load
sine wave oscillator
fast half wave rectifier
precision amplification using LM201
One of the common use of OP-AMP is precision amplification or instrumentation amplification. The cascaded form using two LM 201 Op AMPs is shown below where R1=R4 and R2=R3 with Av = 1+ (R1/R2).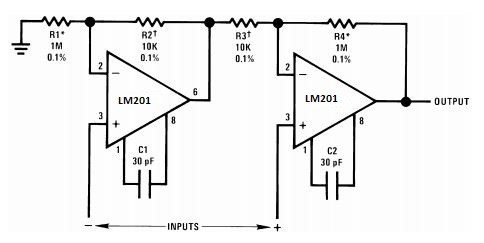 You can check these practical guides where we used operational amplifier for AC voltage and AC current measurement.
LM201 Applications
The real-life applications of LM201 are:
on our mobile phones for AD conversion
In Audio amplifiers
Video signal conditioning units
Sensor Data Accusation
weighing scale (electronic)
digital to analog converters in Phone
Temperature control in various device
error amplifiers
communication circuits
Receivers
Modulators
Synthesizers
2D Model Diagram
We always need a 2D model of an integrated circuit while designing a printed circuit board.  This figure represents the 2D model dimension for the DIP package. You can consult the datasheet for 2D model of other packages.