How to make H bridge using IR2110: H bridge is one of the most popular typologies of DC to DC converters. The h bridge is usually used in applications where power requirement is greater than 300 watt. The h bridge is more complicated to handle than other dc to dc converter methods.H bridge has many applications in inverters, switch mode power supplies. AC motor drivers, DC motor drivers, direction control of motors and many others. H bridge consists of four switches. These switches can be transistor, thyristors, and MOSFETs. I have used  MOSFETs in H bridge designing for pure sine wave inverter. I have used IRF840 MOSFET in H bridge due to its high current and voltage handling capability.you can check its data sheet for more information about it.
HOW H-BRIDGE WORKING
Lets take an example to understand basics to H bridge. Figure Below shows an H bridge which consists of four  MOSFETs  Q1, Q2, Q3, and Q4. I have also connected two switches S1 and S2. 12 volt source is used to drive MOSFET when either S1 or S2 is on. The supply voltage is also given t the  H bridge. When switch S1 is on MOSFET Q1 and Q4 is on and motor rotate in clockwise direction. Q3 and Q2 remain off.
NOTE: Circuit shown below is just for the understanding purpose. Don't try to make it for your project use. Because its need more components to connect with MOSFETS. I will discuss it later.

When switch S2 is on, MOSFET Q2 and Q3 is also on and motor rotate in anti clock wise direction. Q1 and Q4 remain off. As shown in the figure below.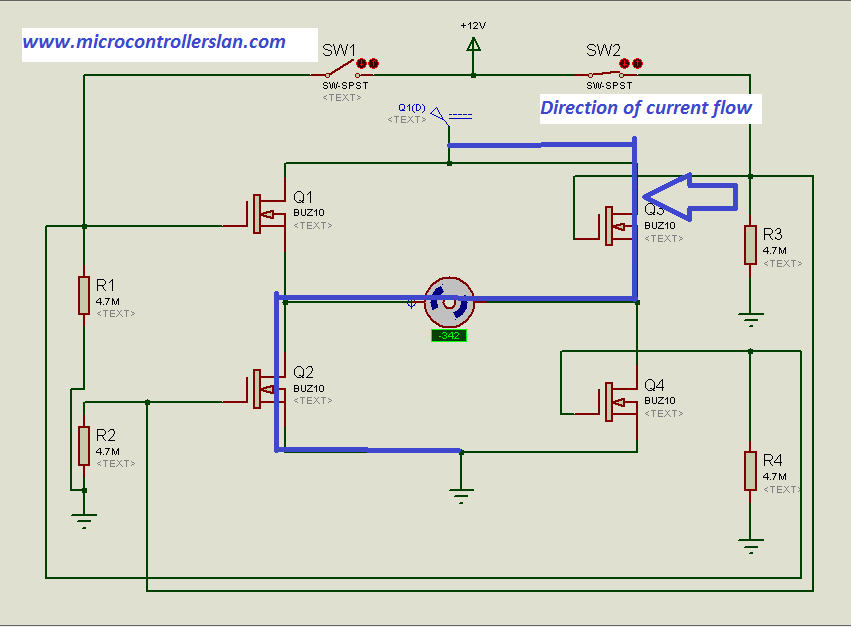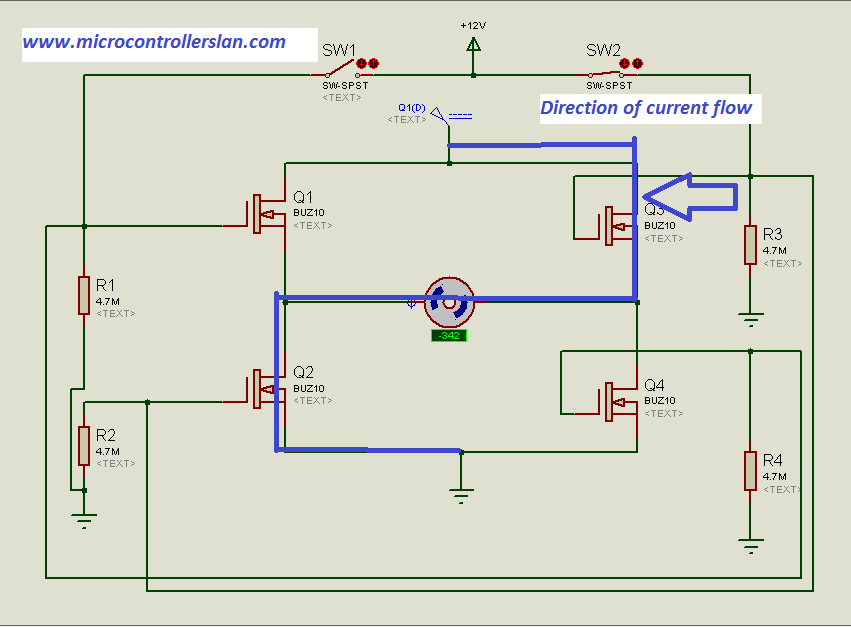 As I have already mentioned. I have to make some changes in the above circuits before making them to use in our projects. In the above circuits, I have connected 12 volt directly with MOSFETS to drive them. But we can't do it practically. To resolve this issue we use MOSFET gate drivers.
H bridge using IR2110
I have already posted a article on MOSFET drivers. I have covered the answer to the following questions in that article. what is MOSFET DRIVER? Why do we need to use a MOSFET driver? How to use MOSFET driver IR2110? To get the answer of all these questions reading the following article.
Compete circuit diagrams of H bridge are shown below. I have used IR2210 MOSFET gate driver circuit. In H bridge Two MOSFETS are used as High side MOSFETS and two used as a low side MOSFETS. IR2210 high and low side drivers outputs are used to drive these MOSFET.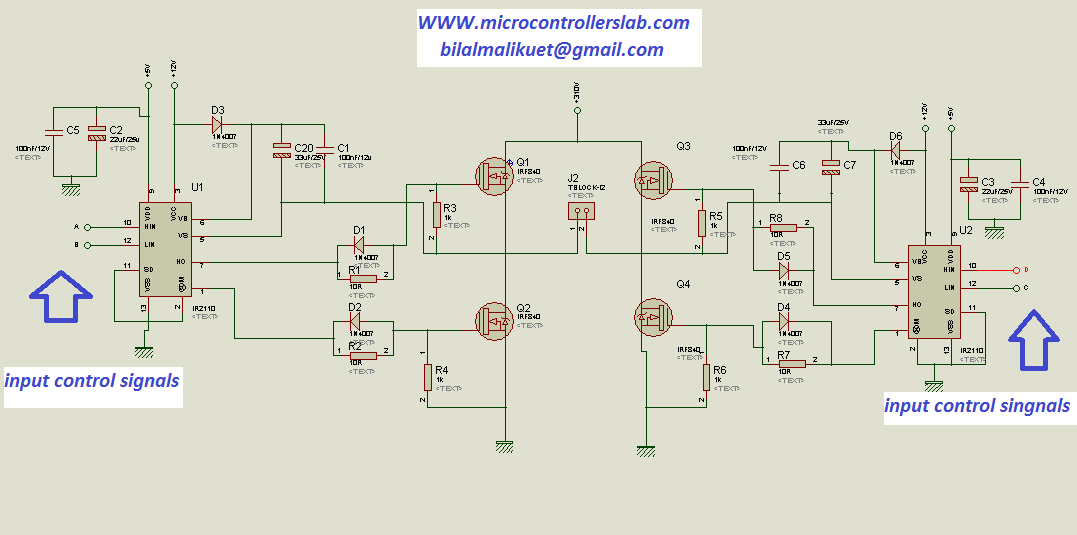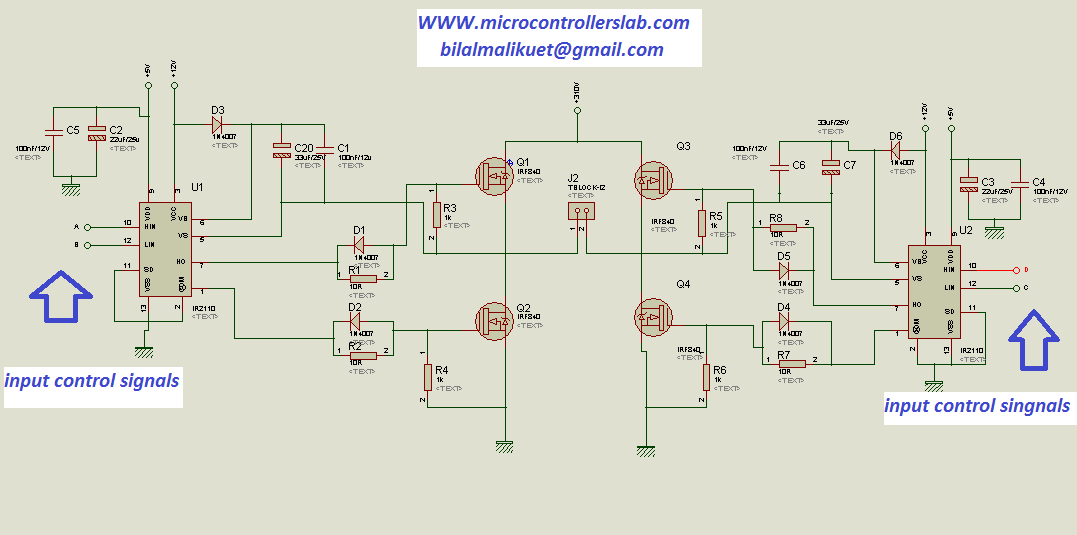 Components list
Category,Reference,Value,Order Code
Resistors,"R1",10R,
Resistors,"R2",10R,
Resistors,"R7",10R,
Resistors,"R8",10R,
Resistors,"R3",1k,
Resistors,"R4",1k,
Resistors,"R5",1k,
Resistors,"R6",1k,
Capacitors,"C1",100nF/12v,
Capacitors,"C4",100nF/12V,
Capacitors,"C5",100nF/12V,
Capacitors,"C6",100nF/12V,
Capacitors,"C2",22uF/25v,
Capacitors,"C3",22uF/25V,
Capacitors,"C7",33uF/25V,
Capacitors,"C20",33uF/25V,
Integrated Circuits,"U1",IR2110,
Integrated Circuits,"U2",IR2110,
Transistors,"Q1",IRF840,
Transistors,"Q2",IRF840,
Transistors,"Q3",IRF840,
Transistors,"Q4",IRF840,
Diodes,"D1",1N4007,
Diodes,"D2",1N4007,
Diodes,"D3",1N4007,
Diodes,"D4",1N4007,
Diodes,"D5",1N4007,
Diodes,"D6",1N4007,

In pure sine wave inverter, 311 volt is used as an input voltage supply from dc to dc converter using push pull topology. Control signals are generated through the microcontroller. In SMPWM tutorial I will discuss how to create control signals for h bridge to make neat sine wave out h bridge after the LC filter. If you want to use above H bridge in direction control of DC motor, you can use it by making 2 control signals common. Signal A and C should be common. Signals B and D should also be common to rotate the motor in the clockwise or anti-clockwise direction. To get the complete circuit diagram of H bridge comment on this post with your email address. you can check these power electronics projects which used the H bridge.
If you still have any issue after reading this article. Comment on this post. I will try to reply to your comments as soon as possible. Share it . with your friends. Because sharing is caring 🙂