EL1881 is a low power video synchronization separator IC designed using an analog CMOS process. A video signal contains video data, horizontal and vertical synchronization information. The main function of this device is to extract this horizontal and vertical synchronization information from the standard and non-standard input video signals and provide the timing information about these signals. It takes an input video signal and provides composite and vertical sync output. The EL1881 IC supports NTSC, PAL and SECAM video sync separation. 
EL1881 Pinout Diagram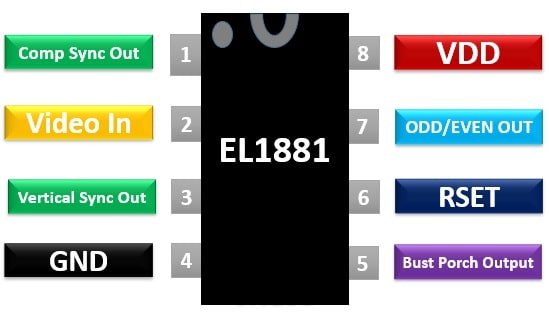 Pin Configuration
It has a total of eight pins. The description of pins is mentioned in the table below.

| Pin No. | Pin Name | Description |
| --- | --- | --- |
| 1 | COMPOSITE SYNC OUT | The output pin which outputs the extracted composite signal. |
| 2 | COMPOSITE VIDEO IN | An AC coupled input pin which is supplied with a composite video input signal. |
| 3 | VERTICAL SYNC OUT | Output pin which sends the composite free signal |
| 4 | GND | Ground |
| 5 | BUST/ BACK PORCH OUTPUT | The output pin which is low during burst portion of composite video |
| 6 | REST | An external resistor is connected to this pin which is used to set the internal timings of this IC. |
| 7 | ODD/EVEN OUTPUT | An output pin used to detect the high and low fields. During odd fields, it is high, and it is low during even fields |
| 8 | VDD | Positive voltage supply |
EL1881 Video Sync Separator IC Features
It can perform both standard and non-standard video sync separation.
The IC takes in a composite video signal and gives composite and vertical sync outputs
Additional outputs of bust/back porch and odd/even field
Supports sync separation of NTSC, PAL, SECAM
Perform its operation over a temperature range of -40°C to +85°C.
It operates from a single voltage supply of +5V having low current of 1.5 mA.
EL1881 is lead-free and performs fixed 70mV slicing of video input levels from peak to peak voltage of 0.5 to 2.
Where to use it?
The old RGB monitors do not support composite signal and EL1881 separates the composite and vertical part so this IC can be used in RGB monitors. It is pin-compatible with LM1881. You can replace LM1881 IC in video applications. If you need an IC for sync separation in 5V applications, then this IC might be the right choice for you. You can use it in portable computers and for applications requiring high-speed communication.
How to use EL1881?
The simplified block diagram of EL1881 Video Sync Separator IC is drawn below. Pin 2 is provided with a composite video signal as an input. The assembly of a capacitor  CF and resistor RF connected at pin 2 is basically a chroma filter. The C1 is a parasitic capacitor used to filter noise. The input signal is applied at the free end of 620Ω resister. The chroma filter will increase the S/N ratio of the input signal. An external resistor is connected to pin 6. It produces a reference current and adjusts the internal timings of the IC.
After supplying the pin 8 with power supply, switch on the power supply. The value of power supply should lie between 5 to 12 V You will receive a composite sync output at pin 1 and a vertical sync output at pin 3.
Example Circuit

Applications
EL1881 is normally used in video applications. Few of its applications are listed below:
RGB and PCMCIA applications
Video amplifiers
Line drivers and A/D drivers
Broadcast equipment
Active filtering
Equivalent Video sync separators of EL1881
EL1881 2D Diagram
The EL1881 has 8-pin PDIP and 8-pin SO package. The two-dimensional diagram of its 8 pin PDIP package along with its dimensions is drawn below.
EL1881 Datasheet