GP2Y1014AU0F is an optical dust sensor that means it senses dust by using an optical sensing system such as a light source. It is used to detect dust particles in the air. Additionally, it can be used to measure air quality.  Its internal circuitry consists of a simple infrared light emitting diode and a photo transistor. Both these optically operating electronics components are placed in a diagonal position to each other. This dust sensor uses a  reflected light of dust in the air to detect dust. Furthermore, it can identify smoke from house dust such as cigarette smoke and produces a series of output voltage pulses according to the dust amount in the air. 
GP2Y1014AU0F Pinout
This optical dust sensor comes with six pinouts. The following diagram shows the pinout of GP2Y1014AU0F sensor.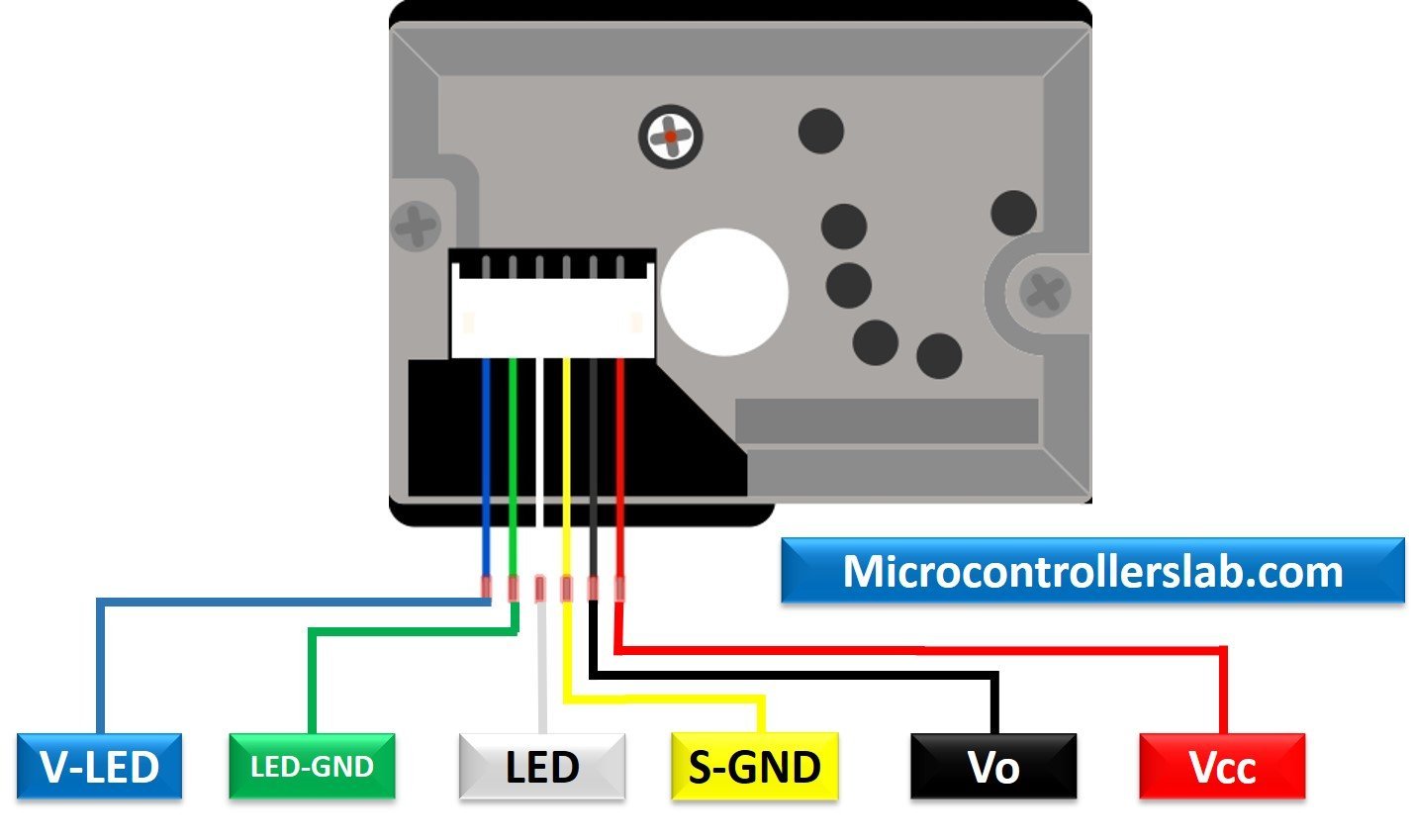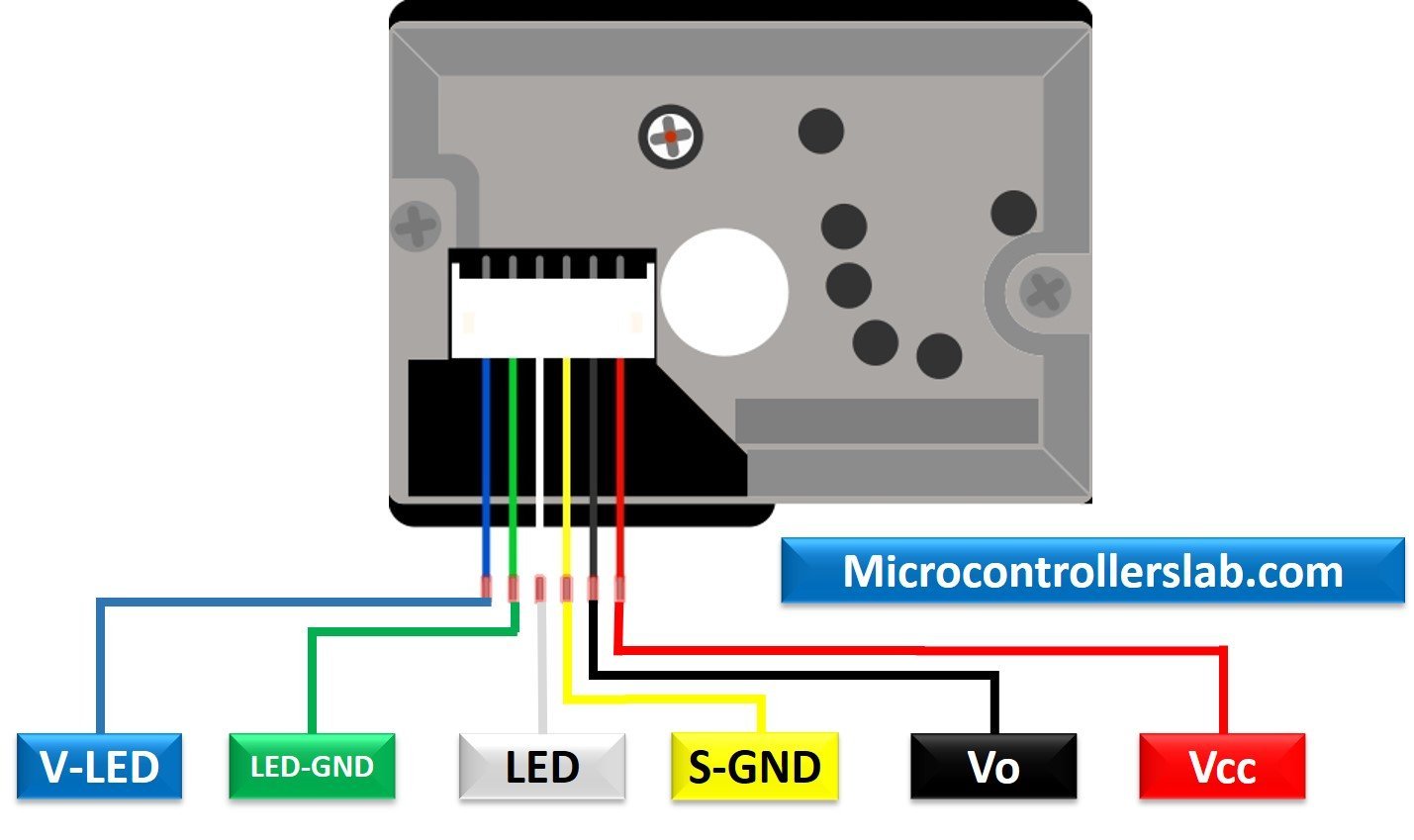 Pin Configuration Details
| No. | Pin Name | Function |
| --- | --- | --- |
| 1 | V-LED | Provides Vcc to IR LED through phototransistor. Connect 5V to this pin |
| 2 | LED – GND | Connect the ground terminal of the power supply to this pin. It is a ground pin of IRED |
| 3 | LED | This pin is used to toggleIRLED to emit infrared light |
| 4 | S-GND | Ground pin of GP2Y1014AU0F optical dust sensor |
| 5 | VOUT | This pin produces analog voltage pulses according to concentration of dust particles in air. |
| 6 | VCC | Vcc pin powers the optical sensor and operating voltage is between 4.5V to 5V |
Note: GP2Y1014AU0F dust concentration measurement sensor consumes only 20mA current during normal operating condition. Hence, we can directly power from the same power source which is used to power microcontrollers. Moreover, we can also directly power it with the 5V onboard signal of Arduino.

GP2Y1014AU0F Features and Specifications 
Low current consumption (20mA maximum) makes it easy to interface with microcontrollers such as Arduino, TM4C123, ESP32, etc. Hence, do not require any external electronics components .
Can detect both dust particles and smoke presence in the air
Provides analog voltage output according to the concentration of dust particles in air and Sensitivity is 0.5 V/(100 µg/m3). That means it can detect the minimum detectable dust size is 0.5µm.
Standard operating voltage range : 4.5V to 5.5V
Compact design and dimensions: 1.81 x 1.18 x 0.69" (46.0 x 30.0 x 17.6 mm)
Response time of GP2Y1014AU0F dust sensor is less than one second. In other words, it can sense dust particles in less than one second and provides analog voltage output
For more electrical specifications of GP2Y1014AU0F, check the technical datasheet. The downloadable link of the datasheet is given at the end of the tutorial.
How does Optical Dust Sensor Work?
As discussed earlier, GP2Y1014AU0F sensor circuit consists of one infrared light emitting diode and one phototransistor. It also has an air inlet valve which lets the air pass through the sensor. Both IR LED and phototransistor are placed diagonally near the air inlet valve.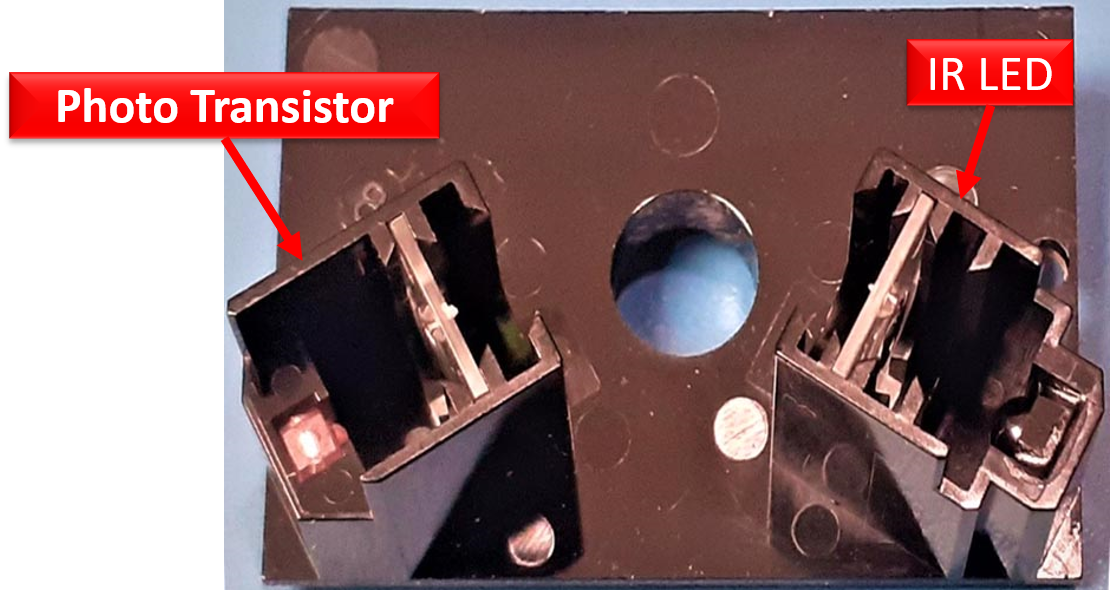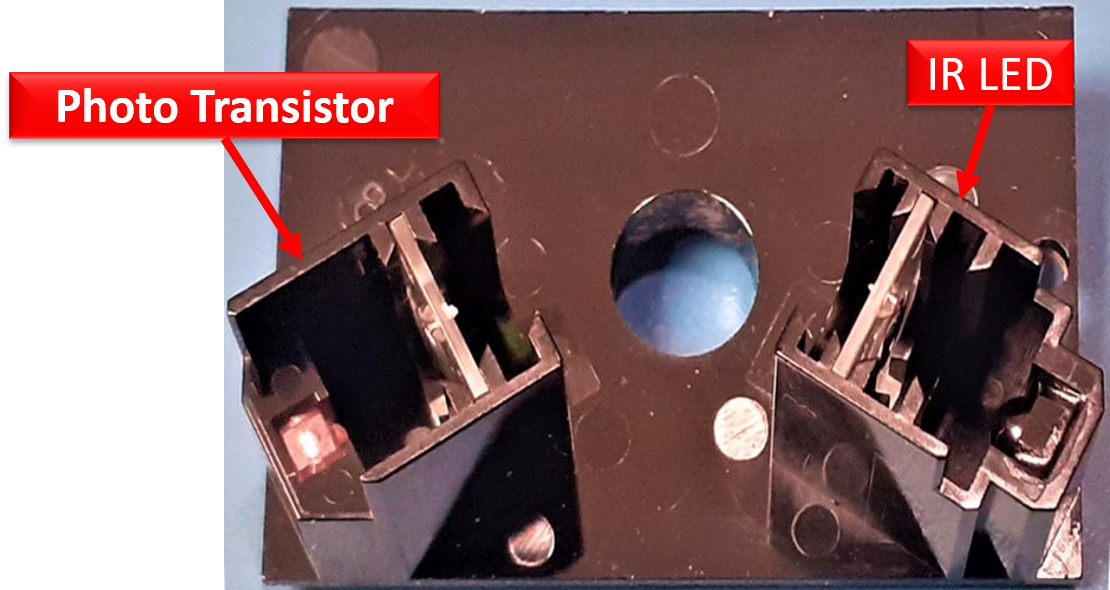 The basic working principle of this sensor is optical light and more specifically the light scattering principle. The air goes into the sensor through an air inlet valve where a repeatedly toggling infrared LED light falls on air. This infrared light illuminates the dust particles which are available in the air. In response, a scattered light signal is produced. This scattered light signal is detected by the light detector phototransistor. The output of the light detector circuit is amplified by the multiple signal amplifier circuit. After that, an amplified light signal is processed to get concentration of dust particles in the air.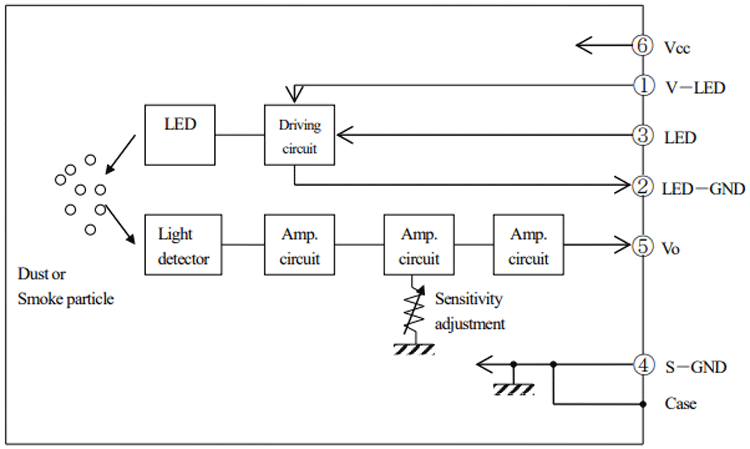 At the end, the optical dust sensor produces an analog voltage signal on Vo pin according to concentration of dust particles or smoke in the air.
The most important point to note here is that the magnitude of output voltage depends on the intensity of scattered light which light detector circuits detected. Moreover, the intensity of scatter light depends on the concentration of dust particles in the air.
In short, the more the concentration of dust particles, the greater will be the output voltage.
Interfacing with Microcontrollers
To interface GP2Y10 optical sensors with microcontrollers such as Arduino, we need only an Analog pin to read the analog voltage output of the sensor. Other than this, we also need one digital output pin to toggle IR LED of the GP2Y10 sensor. Hence, we can interface the GP2Y10 dust sensor with any microcontroller having one ADC channel and at least one digital output pin. 
For example, Arduino has 5 ADC or analog channels which can be used to measure output voltage value of optical dust sensor. Furthermore, Arduino also supports 10 digital input-output pins. We can use any one of these pins to toggle the IR LED of GP2Y10.
Applications
Air Purification Systems
Smoke Detectors
Air Filtering Plants
2D Dimensions GP2Y1014AU0F
The picture below shows the 2D model of optical dust sensor. It has a compact size and is suitable for industrial applications. This 2D model will help while designing the PCB footprint of GP2Y1014AU0F optical dust sensor.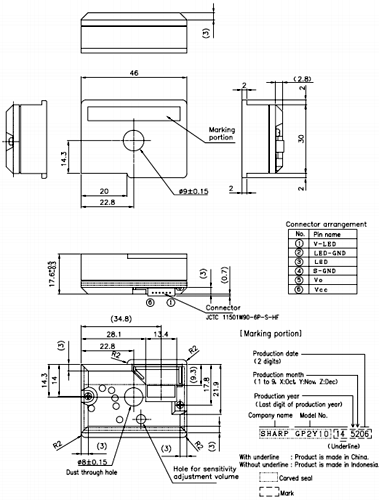 Datasheet