TPA6138A2PW is a headphone Driver introduced by Texas Instruments. It is a small, cost-effective IC with an Adjustable Gain through external resistors. The driver can deliver 25mW into 32 ohms load with just 3.3-V supply voltage. The chip has no DC blocking capacitors or split-rail power supply. Instead, it has a charge pump to generate a negative supply rail for the amplifiers for a clean ground-referenced output. Its outputs are compiled with ±8-kV IEC ESD protection and an ESD protection circuit.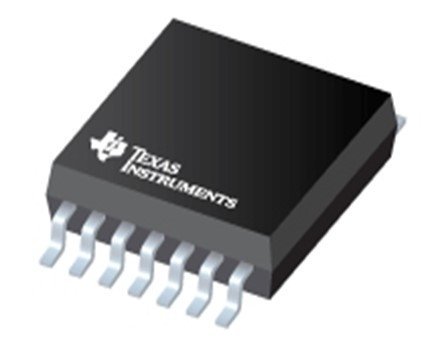 TPA6138A2PW Introduction
The stereo headphone amplifier is integrated with an Active mute control and an in-built pop-reduction circuitry to eradicate the noises during turn on/off. The Undervoltage protection facility in the integrated circuit helps to avoid damage and noise when the power supply is very low or removed and aids a pop-free shutdown. All these properties result in increased RF noise immunity.
TPA6138A2PW can be a better substitute for traditional headphone amplifiers due to its high performance and reduced component count. It can find its applications in consumer products. This tutorial shows the pin configuration, features, specifications, and applications.

TPA6138A2PW Pinout
The following diagram shows the pinout of the TPA6138A2PW Headphone Driver:
Pin Configuration
Let us discuss the pinout of the TPA6138A2PW Headphone Driver. The pin configuration detail in tabular is mentioned below:
| Pin Number | Pin Name | Function |
| --- | --- | --- |
| 1 | +INR | Positive Right-channel OP-AMP input pin |
| 2 | –INR | Negative Right-channel OPAMP input pin |
| 3 | OUTR | Output Right-channel OP AMP pin |
| 4 | GND | Ground pin |
| 5 | Mute | Active-low, mute pin |
| 6 | VSS | Negative Power Supply pin |
| 7 | CN | Charge-pump flying capacitor negative connection pin |
| 8 | CP | Charge-pump flying capacitor positive connection pin |
| 9 | VDD | Positive Power Supply pin |
| 10 | GND | Ground pin |
| 11 | UVP | Under Voltage Protection pin |
| 12 | OUTL | Output Left-channel OP AMP pin |
| 13 | –INL | Negative Left-channel OP AMP input pin |
| 14 | +INL | Positive Left-channel OP AMP input pin |
TPA6138A2PW Features and Specifications
| | |
| --- | --- |
| Feature | Availability |
| Maximum Output Power | 40 mWatts |
| Operational Temperature | -400C – 850C |
| Nominal Supply Current | 25 mA |
| Load Impedance | 32 ohms |
| Architecture | Class-AB |
| Headphone Output Channels | 2-Channel Stereo |
| Output Type | Adjustable |
| Power Supply Rejection Ratio(PSSR) | 80 dB |
| Package Type | TSSOP, Surface mount |
| Pin Count | 14 |
Operating Voltage: 3 – 3.6 Volts
Signal-to-Noise Ratio: >90 dB
Dynamic Range: 100 dB
DC Offset: <1mV
Load Impedance: 32 ohms
Low THD+N < 0.01% at 10 mW Into 32 ohms
Detailed Features
Some of the detailed features of the TPA6138A2PW are listed below:
Adjustable Gain by External Gain setting Resistors.
It is ideal for PWM Audio Sources due to its arrangement as a Second-order Low-Pass filter to remove out-of-band noise.
It comes with an active Mute audio control for Pop-Free audio on/off control
TPA6138A2PW has differential input to minimize noise pickups but a single-ended output
The Outputs of the headphone driver are Ground-referenced to avoid degradation of Low-Frequency response and to improve THD+N performance.
It comes with Click-and-Pop reduction circuitry to eliminate the unwanted noise during turn on/off.
The driver has an integrated External UnderVoltage Mute and Short-Circuit Protection.
It also has an integrated charge pump to produce negative voltage for the operational amplifiers.
It is available in TSSOP Package.
TPA6138A2PW Internal Diagram
The internal Circuitry of the TPA6138A2PW Headphone Driver is provided for better understanding. It is as follows: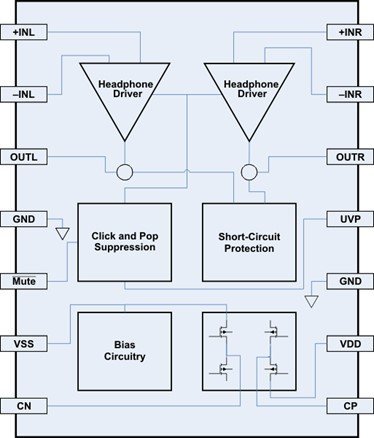 How to interface TPA6138A2PW?
To interface TPA6138A2PW Headphone Driver, one must follow the given schematic. The schematic diagram shows the connectivity of input and outputs in an audio system for gain adjustments and amplification.
TPA6138A2PW Alternative Options
TS482
TPA6139A2
TPA6133A2
MAX13330
Applications
Laptops
Set-top boxes
Sound Cards
LCDs
DVD Players
2D Diagram
The following figure depicts the 2d model of the TPA6318A2PW Headphone Driver. It comes in the TSSOP-14 Package. It shows us the physical dimensions in millimeters required when a PCB card is designed.
DATASHEET
The datasheet link is given below to see further details and specifications of the TPA6138A2PW Headphone Driver.