Automatic transfer switch for generator, in this project you will learn about mostly used circuit of automatic transfer switch for small power generators. There are many automatic transfer switches are available in market. Some of them are expensive and some are cheap. The reason behind their price difference is type of technology used. There are two kind of Automatic transfer switches are available in market. Analog electronics based automatic transfer switch and digital electronics based automatic transfer switches. Analog electronics based transfer switches use analog electronics in their circuit like operational amplifier , comparators, transistors, diodes and mechanical relays etc. But there is no digital display in analog electronics based transfer switches. Digital automatic transfer switches are most commonly used now a days. Because it use liquid crystal digital display to show values of current and voltage to user. It also shows the status of AC main power and generator to show which power source is currently being feed to load. You can use as many functionalities as you want. Some examples are given below :
Over voltage and over current protection
Battery status or amount of battery charging available
protection alarm and many others.
In this project, I will discuss digital automatic transfer switch and give you brief idea about its circuit diagram and programming. I will discuss following things?
what is automatic transfer switch for generator?
main components used in automatic transfer switch.
circuit diagram of automatic transfer switch.
how to write code for automatic transfer switch?
 What is automatic transfer switches?
As it name suggest, automatic transfer switch is used to transfer from one state to another. In electrical terms , it is used to transfer load from one power source to another power source. Although it have many applications, but in this project, we are using automatic transfer switch to transfer load between AC main power and generator in case of failure of either power source. Automatic transfer switches for generator is used to turn on generator automatically in case of non availability of main power source. it is also used to transfer load to generator after generator transient period. Block diagram of automatic transfer switch is given below :

Above block diagram is self explanatory, but if you still do not feel comfortable let me know with your comments.
main components used in Automatic transfer switches :
 Automatic transfer switch use following major components which are used to control the main function of ATS.
AC voltage measurement of main AC power supply from wapda and out put of generator A, it is used to sense either AC supply from wapda is availble or not. You should have a knowledge about alternating voltage measurement with the help of microcontroller. If you don't know how to measure AC voltage using microcontroller, check following article :
Microcontroller : it is used to measure AC voltages of AC main power from wapda and generator. It is used to take necessary actions against availability or non availability of either source. It is also used to display digital values of voltage and current on liquid crystal display.
Liiquid crystal display is used for digital display of current and voltage values. it is also used to show status of both sources.
Relays are used to transfer from one source to another based on actions performed by microcontroller subjected to availability of sources.
circuit diagram of automatic transfer switch of generator :
Circuit diagram of ATS using pic microcontroller is shown below. I have used pic microcontroller to measure voltage and to take necessary actions on relays.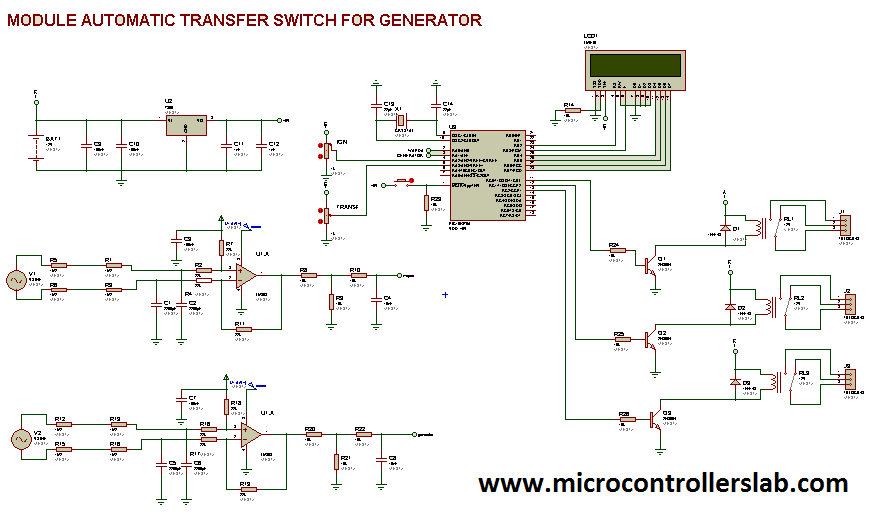 [button-green url="http://store.microcontrollerslab.com/product/automatic-transfer-switch-for-generator/" target="_self" position="center"]click here to buy code and circuit diagram in proteus [/button-green]
I will post separate article on working of above circuit diagram and how to write code for this project. keep visiting our website to know more about this project. thanks 🙂