IR2110 is a high voltage MOSFET driver IC. It can drive both low side and high side switches in half-bridge and low bridge circuits. How to use a MOSFET driver? MOSFET driver circuits are used to drive MOSFETS in a high side or low side. Why we need a MOSFET driver? Because MOSFETs are voltage control devices and used to drive MOSFET the gate capacitance should be charged to operating voltage which is usually between 9-10 volt. One can do it very easily but there is one issue. High voltage on the drain of MOSFET cause problem by interaction with gate-drain capacitance. This problem is known as the miller effect. MOSFET drivers are used to avoiding these issues.
There are many types of MOSFET drivers available in the market. But almost all MOSFET drivers used totem pole output. Because it has low input impedance and high drive current.
Transformer isolated driver circuits
Non- isolated driver circuits
To know about totem pole output and its used a Mosfet driver go through the following article:

NOTE: the current required to drive a MOSFET gate is very low but peak current somehow greater than average current. If peak current required for your application is too high to handle for MOSFET driver IC, you can use external totem-pole output or complementary MOSFET circuits.
Introduction to IR2110 MOSFET DRIVER
In many applications, a floating circuit is required to drive high side MOSFET. In H bridge used in pure sine wave inverter design 2 MOSFET are used as high side MOSFET and 2 MOSFET is used as low side MOSFET. International rectifiers IR2110 MOSFET driver can be used as a high side and low side MOSFET driver. It has a floating circuit to handle to bootstrap operation. IR2210 can withstand voltage up to 500v (offset voltage). Its output pins can provide peak current up to 2 amperes. It can also be used as an IGBT driver. IR2110 floating circuit can drive high side MOSFET up to 500 volts.
IR2110 Pinout Diagram
This figure represents the pin diagram of IR2210 MOSFET driver IC.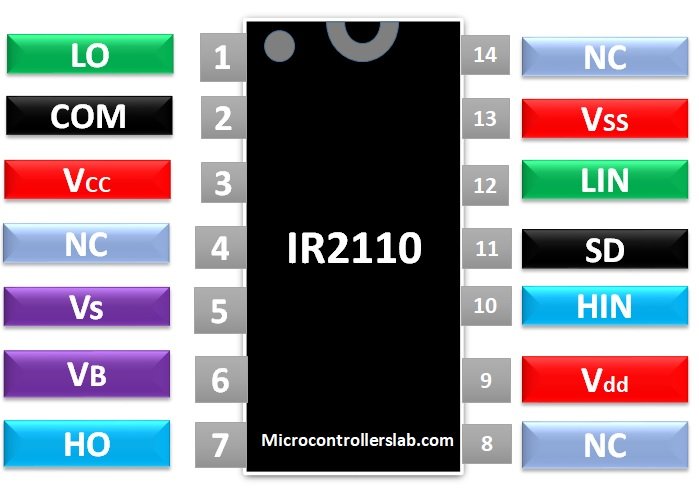 | Pin No. | Pin Name | Description |
| --- | --- | --- |
| 1 | LO | Output pin for a low side gate driver |
| 2 | COM | return path for low side configuration |
| 3 | VCC | power supply pin for low side |
| 5 | VS | floating-point return path for high side drive |
| 6 | VB | floating supply for high side drive |
| 7 | HO | output signal for high side mosfet |
| 9 | VDD | Power supply +5V |
| 10 | HIN | PWM signal input for high side |
| 11 | SD | shutdown pin to turn off system automatically |
| 12 | LIN | PWM signal input for low side |
| 13 | VSS | Power supply ground |
For electrical features and specification download IR2110 DataSheet:
How IR2110 work?
The pin configuration and functionality of each pin are given below:
Pin 1 is the output of low side MOSFET drive
pin2 is a return path for the low side. It is at the same potential as ground VSS pin 13. Because when an input to the low side at pin 12 Lin is high, LO output will be equal to the value of Vcc voltage at pin 3 with respect to Vss and COM pin. When hen input to low side at pin 12 Lin is low, LO output will be equal to the value of VSS and it means zero.
VDD pin 9 is a logical supply pin. Its value should be between 5 volts. But if you used voltage less than 4 volts it may not give you the required result.
HIN pin 10 is an input signal for high side MOSFET driver output. It may be from a microcontroller or any other device. But input signal logic level should be between 4-5 volt.
LIN pin 12 is an input signal for low side Mosfet driver output. It may be from a microcontroller or any other device. But input signal logic level should also be between 4-5 volt.
SD pin 11 is used as a shutdown pin. you can use it for the protection circuit. For example in over voltage or over current protection circuit, if any of these values become greater than specified values, you can give a 5-volt signal to shutdown IR2210 driver to stop driving MOSFETS. In return, your circuit will stop working.
VB pin 6 is used as a high side floating supply of floating circuit to provide floating voltage to high side MOSFET.
The bootstrap capacitor used between VB and VS to fully operate high side MOSFET. It plays a very important rule in H bridge of pure sine wave inverter. you should use bootstrap capacitor value 22uf-40uf. I have successfully designed H bridge after making many changes in H bridge with 33uf/50v bootstrap capacitor value.
For more detail I recommend you to go through datasheet of IR2210 and one tip for those readers who are from Pakistan, Don't purchase IR2110 from Pakistan. Because low-quality IR2110 IC's are available in Pakistan which burns again and again and will make you hopeless. I have already gone through this situation while working on my final year project "Hybrid pure sine wave inverter".Then I used IR2112 and it works perfectly. Because IR2212 and I2110 both are almost the same and their pinout is the same. I recommend you to use IR2112 also in your project.
Electrical Features
It can provide Gate voltage between 10-20 volts.
For the high side of the H-Bridge circuit, the bootstrap operation operating range is +500V or +600V.
Compatible with CMOS and TTL logic
Protection for Under-voltage for LO and HO pins/channels
Automatic shutdown with a feedback circuit
Synchronized propagation delay
Output voltage: 10-20V
Output Current: 2A
Switching time: on time=120ns and off time=94ns
IR2110 as low side or high side MOSFET DRIVER
high side and low side MOSFET driver in half-bridge
IR2110 as a high side MOSFET driver
IR2110 as a low side MOSFET driver
IR2110 Example Half-Bridge inverter
In this example, the half-bridge inverter circuit is designed using Mosfer driver and IRF530 Mosfets. Single IC drives both high side and low side Mosfets. Mosfets are used in half-bridge configuration mode. 50Hz PWM signal provides input to HIN and LIN pins. Not Gate provides an inverted signal to pin 12 that is input signal for low side Mosfet.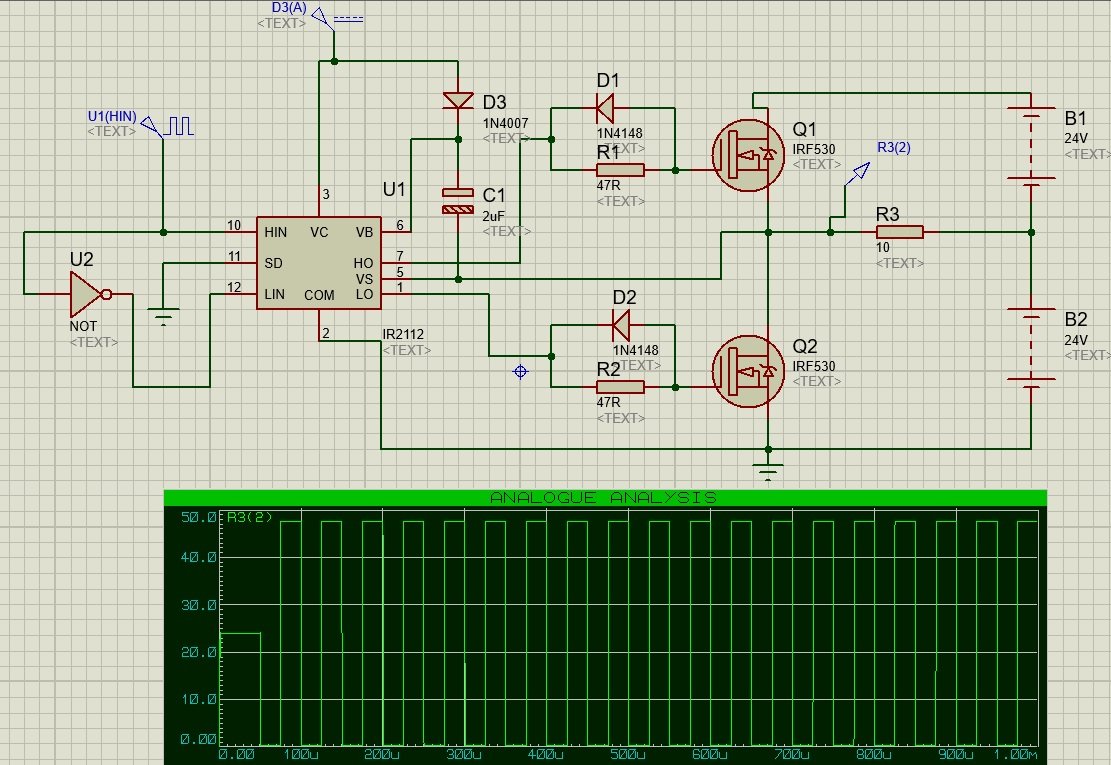 2D Dimension diagram
You always require an exact physical dimension while designing a PCB. This picture depicts the 2D dimension diagram of IC.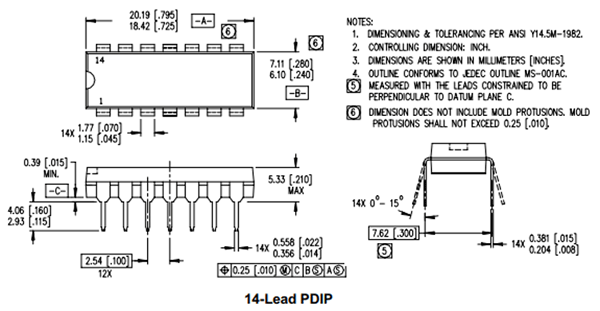 Applications
DC motor driver
AC Motor Speed control
Half, full and three-phase bridge
Soft starter for three-phase induction motor