UPS (uninterruptible power supply) circuit diagram, in this article you will learn what is UPS? What is the difference between online and offline UPS ? I have also added practical circuit for UPS in this article. uninterruptible power supply have very core importance for control of sensitive devices such as computers, induction machines, medical equipment's and many other things. uninterruptible power supply also used in many countries where energy shortage is a main issue. In country like Pakistan, many people use UPS in load shedding timings. In such cases, UPS is used to store energy in batteries when main Power supply is available. Same UPS is used to convert DC energy stored in batteries in AC supply to provide power to AC operating equipment's of homes during load shedding timings. Mainly devices which have severe effect of change in following parameters above and specified limit connect with uninterruptible power supply.
Over voltage
under voltage
voltage out
voltage spikes
frequency fluctuation of 1%
distortion in voltage wave form.
What is uninterruptible power supply? 
UPS uninterruptible power supply is a device used for protection against over voltage, under voltage; provide continuous supply in case of supply outage, protection against voltage spikes, frequency fluctuation and against distortion in voltage wave form. In many cases you must have listen, your home devices burnt out due to over voltage and under voltage. UPS provide protection to these devices. There are many places where outage in main power may damage data permanently. For example in banks or companies where computer should remain on all the time during working hours and outage in main power supply may damage their computers data and which in return loss for a company.In such places UPS provide continuous power to computers. In industries induction machines are used mostly. Induction machines are frequency sensitive loads. Little bit change in frequency produce change in induction motors output. To avoid change in frequency to reach to the input of induction machine UPS is used. Similarly There are many devices which need pure sine wave to operate properly. But in power system use of power converters inject harmonics and voltage wave form distortion in main power supply. In such cases UPS is used to provide pure sine wave to load. But many uninterruptible power supply available in market don't have a pure sine wave output which cause bad affect on performance of loads. Most important factor is reduction in life time of a device/load. Two types of UPS are mainly used
Online uninterruptible power supply
Offline uninterruptible power supply
. Difference and their block diagrams are given below :

Difference between online and offline uninterruptible power supply?
 Bock diagrams shown below shows the difference between online and offline uninterruptible power supply.
Block diagram of online uninterruptible power supply :

Offline uninterruptible power supply block diagram :
Above block diagrams are self explanatory. Followings are the basics difference between them.
Online UPS provide protection against over voltage, under voltage , main supply  voltage wave form distortion and frequency fluctuation.
Offline UPS only provide protection against supply outage.
Practical circuit diagrams of offline UPS :
 Power kit of offline UPS :
Control Kit of offline uninterruptible power supply :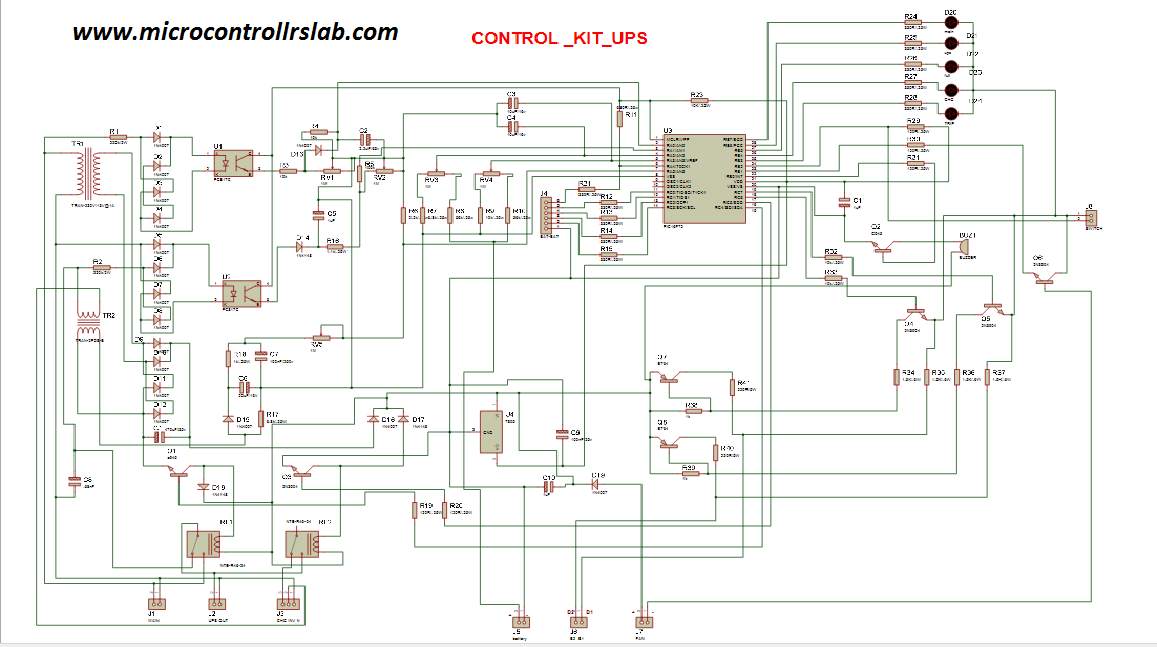 [button-brown url="http://store.microcontrollerslab.com/product/ups-uninterruptible-power-supply-circuit-diagram/" target="_self" position="center"]click here to buy circuit diagram in proteus[/button-brown]
if there is any issue after reading this article, your comments are welcome.Share this article with your friends that's what you can do right now to help others. sharing is caring 🙂