What is inductor and its history?  An inductor is a device which stores the energy in the form of a magnetic field and this property to store energy is called electro magnetism. It is passive electrical component, usually consists of wire which is wrapped around a ferromagnetic material in the form of coil, when current is passed through this coil then magnetic field is produced and the strength of this magnetic field is depending upon number of turns of coil. Means if number of turns are low then the strength of magnetic field would be low similarly if number of tuns are high then the strength of magnetic field would be high. Because it stores energy in the form of a magnetic field therefore it does not change the current suddenly. First time, inductor was discovered by Michael Faraday in 1830 by a simple but a strange way. He just wraps a wire around a cylindrical paper then he attached both ends of this wire with a galvanometer which is current measuring device, then he moved the magnet inside and outside of this cylindrical paper then current produced in a galvanometer that was saw by Michael Faraday by the movement of needle of galvanometer. After that, Nicholas Calland was discovered the inductor coil. Which has been currently used in the form of an inductor. Figure 1 shows the inductor symbols with core, length of wire and number of turns of coil,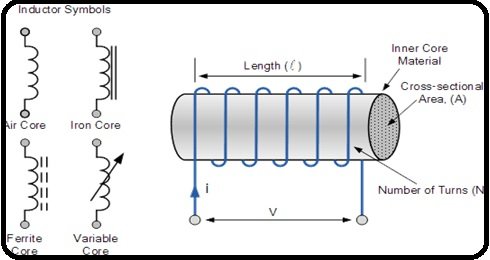 Figure 1 Symbols, Length of wire and Number of turns of Coil.
Types of Inductor
Different types of coils has been currently in used and here we have divided them based on their core.

Figure 2 Toroidal types
Figure 3 Air core
Figure 4 Iron Core
Figure 5 Ferrite Core
Figure 6 Powdered Iron Core
Figure 7 Laminated Core
Figure 8 Variable type
Coupled Inductor: It is the type in which two inductors are connected together by electro magnetic induction. As we know the mutual induction phenomena in which when voltage is flows in one then voltage is generated in other which is coupled with this through mutual induction. Similarly, the coupled inductor works on this phenomenon. These inductors are used for isolation purposes where two circuits are electrically isolated from each other. A simple coupled type is shown in figure 9