Electronics projects for electronics engineering students; this page contains a list of 100's of electronics projects to learn electronics. Starting from basic level electronics projects to complicated electronics projects. Many electronics engineering students want to learn electronics and they are very passionate to learn electronics by doing some electronics projects in university. Mostly students work on electronics projects in their semester projects.  This page helps you to find suitable electronics project for your semester project.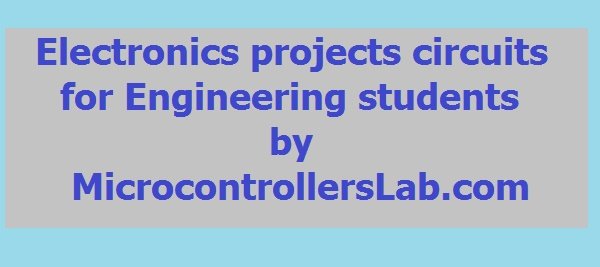 What is best way to learn electronics?
I have seen many people searching on Google to find answer to this question. Best way to learn electronics is the implementation and practical use of electronics components in your projects. But students mostly work on electronics projects in semester projects only. For example in basic electronics course, students study each and every thing about electronics components like diode, transistor, MOSFET and IGBT'S. But they don't use electronics components in their projects regularly.  The best way to learn or master electronics is to use electronics components regularly in your projects. Build circuits using electronics components and analyze the working and function of each component.

Try to read your circuits like a book and keep practicing. If you can't build your circuit on hardware at least use electronics simulation software's like proteus, orcad etc to simulate electronics projects circuits. Make changes in your circuit and check results of your circuit.   Below is a list of electronics projects which you can use to learn electronics and also for your semester electronics projects.
More Electronics Projects. Keep visiting out website for more electronics projects related to electrical, electronics, microcontrollers and power electronics. I will keep updating this page with new electronics projects. If you also want to add your electronics project in this list. Comment on this post with your email address.